It's basic "how-to" when both hosts in same local network. Connection from internet doing in same manner with little preparation (see below).
So I would like build this workflow:

I used name "Server" PC and "Encoder" PC for my hosts.
---
"Server" PC
STEP 1: Download (link) and install the RTMPMiniServer. RUN IT.
STEP 2: type "test123" to field "stream key" for Line#1 and press START
Note: if you got error message "Port 1935 not available" then just restart the app.
Now our server ready for accept incoming feed:

STEP 3: Open any NDI consumer (vMix, OBS, Wirecast etc) and select NDI source called "MiniServer A- Line 1". I use "NDI Studio Monitor" from NewTek tools: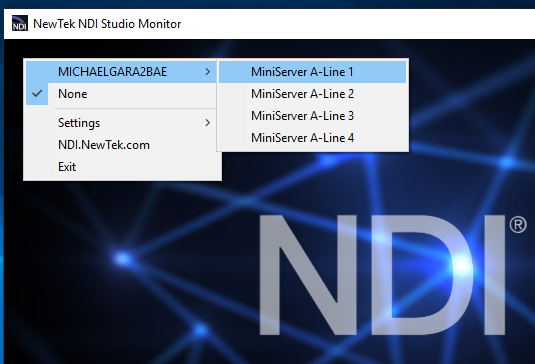 So we have RTMPMiniServer and NDI consumer on "Server" PC.
Let's go to "Encoder" PC.
---
"Encoder" PC
STEP 4: Open any RTMP-encoder. I use OBS: go to Settings —> Stream: select Custom service and type server and stream key.

Let me explain why I typed this values for "Server" and "Stream Key" fields:
1) my "Encoder" PC in same local-network so I should use server address from field called "for connect from LOCALNET":
2) I would like stream to "Line #1" so I should use "test123" as stream key.

STEP 5: press Start Streaming and your encoder starts send RTMP feed to RTMPMiniServer. So let's go to "Server" PC for check result.


---
"Server" PC (check result)
On "Server" PC I got this result:
It's all !